Mastic Asphalt Council
Mastic asphalt is the ultimate protective material for a wide range of construction applications. Used for roofing, flooring, paving or tanking, mastic asphalt is capable of out-performing and outlasting all other comparable materials.
The Mastic Asphalt Council (MAC) is the trade association for the UK mastic asphalt industry. MAC represents more than 90 firms — including mastic asphalt manufacturers, the contractors responsible for its installation, and associated suppliers of equipment and services.
Click here to visit the Mastic Asphalt Council website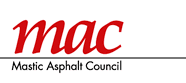 Contact Information
Address:
The Mastic Asphalt Council, PO Box 77, Hastings, TN35 4WL
Tel: 01424 814400
Fax: 01424 814446
Email:
masphaltco@aol.com
Website:
masticasphaltcouncil.co.uk